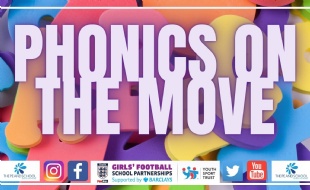 Phonics On The Move Videos
Following on from the success of our times tables videos The PE & School Sports Network are pleased to inform you that our NEW Phonics On The Move (phase 1) videos are now available on our YouTube channel. (see link below)
https://www.youtube.com/channel/UCd-5-_IaythpuLFx2MAQNLA/videos
Over the last couple of months we have put together five videos covering rhyming, alliteration, blending and segmenting, instruments and environmental sounds. All the videos are designed to keep both pupils and teachers active while working on their phonics skills.
We are currently in the process of putting together videos for phase 2 and 3 of phonics. These will be added to the channel once each video is complete.
A big thank you to teachers from Cherry Garden, Grange, Archbishop Sumner, Foxfield and John Keats who have all given us advice and feedback with regard to putting these videos together.