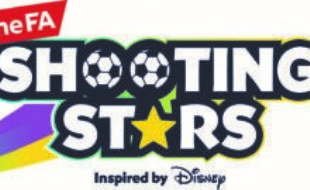 21/22 Virtual Training Dates CONFIRMED
Please see below for details regarding training for the Disney Inspired FA Shooting Stars Training 21/22. OPEN TO ALL STAFF AT YOUR SCHOOL!
Those schools that wish to take part in our 6 week girls football workshops MUST book on to this training before the first workshop takes place in your school.
Virtual dates for schools to be trained in Disney inspired Shooting Stars will be delivered between October 2021 – March 2022. Schools can book to access each module individually. All dates and links to book can be found via this link. https://girlsfootballinschools.org//assets/files/editor/DisneyinspiredShootingStarsbyEnglandFootball-BookingLinks.pdf
If you want to find out more about the programme and check out the digital resources and other Disney Franchises which will be available for you to deliver in school when you have completed the training please visit www.girlsfootballinschools.org
Virtual Training Events
Disney inspired Shooting Stars by England Football training consists of 3 x 90-minute modules; to complete the training you must attend all 3 modules, in the correct order.
Module 1: Introduction to Disney inspired Shooting Stars by England Football (SS)
Module 2: Active Play Through Storytelling (APTS): Delivering Incredibles 2
Module 3: Girls Football Club (GFC): Delivering Guardians of the Galaxy
Registering for an Event
To complete Disney inspired Shooting Stars by England Football training you must attend all 3 modules, in the correct order. You will need to book your place on each module separately.
On completion of all 3 modules, you will be sent your physical resources in the post. These will go to your school address unless you state otherwise on the event registration form.
Registrations will close 1 day before the event start date.
You will receive an automated booking confirmation once you have completed the registration. You will then receive your joining instructions and Zoom link 7 days before your event.
Two documents are available to guide you through the booking process: How to book a place on a FA GFSP training course and how to create a YST event booking account.
If you need any support registering, or you have not received your Zoom links prior to the course please email fagirls@youthsporttrust.org
Once either yourself or another staff member has completed the training we will arrange a date to come in and help set up your club/activities.