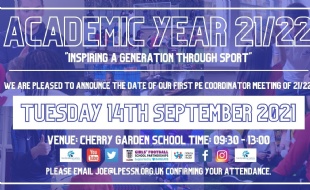 PE Coordinator Meeting 14/09/21
We are pleased to inform you that our first face to face PE Coordinators meeting for 18 ​months will take place on Tuesday 14th September at Cherry Garden School. (See details below)
Date: Tuesday 14th September 2021
Time: 09:30 - 13:00
Venue: Cherry Garden School, 41 Bellenden Road, London SE15 5BB
Unfortunately, the venue has no parking onsite, and the surrounding roads are for parking permits only. However, numerous buses and trains stop within a 5/10-minute walk.
This meeting would be the perfect opportunity to introduce new coordinators if they are taking on the role from next year and to also start booking your school on to programmes and events happening this year.
Please email joe@lpessn.org.uk confirming your attendance.