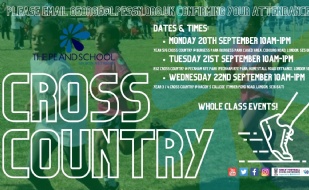 Our first competition sign up for 21/22 is now OPEN! Please see details below.
CROSS COUNTRY DATES AND VENUES: (FULL CLASS EVENTS)
MONDAY 20TH SEPTEMBER 10am-1pm – YEAR 5/6 CROSS COUNTRY @ BURGESS PARK (Burgess Park Caged area, Cobourg Road, London, SE5 0DJ)
TUESDAY 21ST SEPTEMBER 10am-1pm – KS2 CROSS COUNTRY @ PECKHAM RYE PARK (Peckham Rye Park, Homestall Road entrance, London SE22 0NR)
WEDNESDAY 22ND SEPTEMBER 10am-1pm – YEAR 3 / 4 CROSS COUNTRY @ BACON'S COLLEGE (Timber Pond Road, London, SE16 6AT)
You are able to bring full classes to the above events, all children MUST be in FULL PE kit to take part.
Please email george@lpessn.org.uk to confirm your schools space.