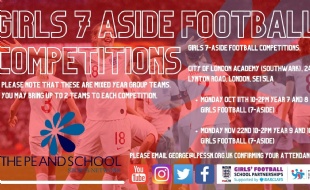 GIRLS 7-ASIDE FOOTBALL COMPETITION
Please see below for our upcoming GIRLS 7-ASIDE FOOTBALL COMPETITIONS.
CITY OF LONDON ACADEMY (SOUTHWARK), 240 LYNTON ROAD, LONDON, SE1 5LA
Monday Oct 11th 10-2pm Year 7 and 8 Girls Football (7-aside)
Monday Nov 22nd 10-2pm Year 9 and 10 Girls Football (7-aside)
Please note that these are mixed year group teams. You may bring up to 2 teams to each competition.