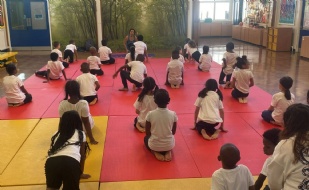 NEW Yoga & Mindfulness Programme
Our yoga and mindfulness programme is now up and running and we are currently working with 9 schools.
We now have some more dates available for the upcoming months.
If you wish to book up for after the New Year that is also fine.
Please read outline of programme carefully before booking up.
We have 3 slots left before Christmas.
The dates available this term are as follows –
TUESDAY 23, 30 NOV & 7 DEC with Samara
TUESDAY 23, 30 & 7 DEC with Ling.
WEDNESDAY 24 NOV, & 1, 8 DEC with Ling.
OUTLINE OF PROGRAMME
The yoga teacher will go into the same school for 3 consecutive weeks.
They will deliver sessions in the morning and afternoon (whole day).
Deliver a yoga session after school for teachers and adults if required.
We will look to work with at least 6 classes through the day.
Sessions should last no longer than 40/45 minutes.
All students need to be in PE kit.
You will need to provide a timetable of classes for the yoga teacher.
You can involve the same classes over the 3 weeks or alternate the weeks.
We believe using this delivery model we can hit many more students and adults within our schools.
If you wish to book up please email glynn@lpessn.org.uk with the dates you require.