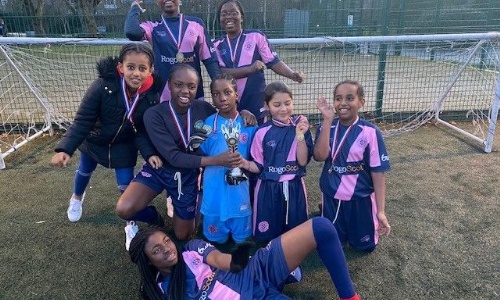 St Josephs RC win both boys and girls leagues
It was double delight on Thursday evening as St Josephs RC won both the boys and girls football leagues.
In a very close final the girls team scored the only goal of the game to claim a 1-0 victory against Goodrich Primary.
The boys were a little bit more convincing, although they didnt have it all thier own way in the first half, beating Archbishop Sumner 6-1.
Boys League
Quarter Finals
Archbishop Sumner (6) Surrey Square (2)
Goodrich (2) St Pauls (1)
St Joseph's Borough (0) St Joseph's RC (0)
(St Joseph's RC win on penalties)
Robert Browning (2) Charles Dickens (0)
Semi Finals
Archbishop Sumner (3) Goodrich (1)
St Joseph's RC (2) Robert Browning (1)
3rd/4th Playoff
Goodrich (2) Robert Browning (1)
Final
Archbishop Sumner (1) St Josephs (6)
Girls League
Semi Finals
Surrey Square (1) Goodrich (5)
Townsend (1) St Joseph's RC (3)
3rd/4th Playoff
Townsend (0) Surrey Square (0)
(Both teams take 3rd place)
Final
St Joseph's RC (1) Goodrich (0)