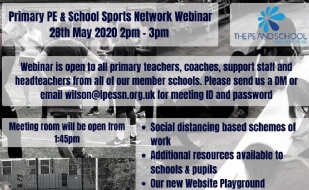 We are delighted to announce that we will be hosting our first Primary PE webinar next week Thursday 28th May
We are delighted to announce that we will be hosting our first Primary PE webinar next week Thursday 28th May from 2 till 3pm via Zoom (meeting room will be open on from 1.45pm). The Webinar is open to all primary head teacher, teachers, coaches & support staff and will focus on the following areas;
Our in-school provisions for the remainder of this term
Social distancing based schemes of work
Additional resources available to schools & pupils including our new website & You Tube channel
Playground organisation during break & lunchtime
Virtual School Games
Next years sign up process for schools to the network
Tips for your immediate PE lessons
Questions!
To sign up to this meeting simply email wilson@lpessn.or.uk for the web ID and password, click onto the below link on the day and add the log in details.
Topic: PE & School Sports Network Primary Schools Webinar
Time: May 28, 2020 02:00 PM London
Join Zoom Meeting
https://zoom.us/j/93592919277?pwd=clhLQlU4WmI1aUhsRmFybXNjTGFxdz09
Do not hesitate to contact joe@lpessn.org.uk if you have any questions otherwise we hope to see and speak to you on the 28th May 2020.