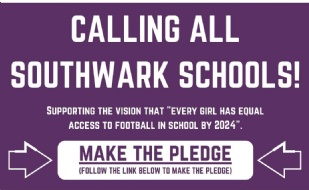 Are you comitted to growing the game of Football for girls' by 2024?
WHY MAKE A PLEDGE?
Are you committed and passionate about driving forward the vision to ensure "every girl has equal access to football in school by 2024"? Is your school able to put changes in place to really make a difference and be part of this movement?
If so, then we believe making a Pledge is a great and simple way for you to share your commitment with The Football Association, supported by Barclays and the Youth Sport Trust to grow girls' football and to make sure everyone within your school and wider community know and hear about it!
HOW DO I MAKE A PLEDGE?
Click on the PLEDGE NOW button on the Girls Football in schools website and you can instantly download a certificate and digital badge for your school to display and use in school communications for example on a website, letterhead, school brochure or magazine and through social media using the hashtag #GirlsFootballinSchools
To make a Pledge you do need to have registered as a user of this site, and when you click the PLEDGE NOW button if someone from your school has already made a Pledge we will let you know!
https://girlsfootballinschools.org/pledge-pb.php