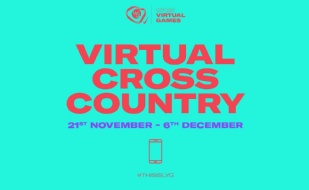 Introducing Nike X LYG Virtual Cross Country
Nike x LYG Virtual Cross Country is an exciting new virtual event designed to keep young Londoners active and give them the chance to represent their Boroughs during lockdown. It will begin on Saturday 21st November and run until Sunday 6th December. All young Londoners have the opportunity to take part, competing across four different age groups: U11, U13, U15 and U17. Participants must complete a set distance, depending on their age group, and submit their time via the London Youth Games website to earn points for their borough. Points are scored for participation and performance. Participants who upload proof of time over their set distance will be entered into a leaderboard for their age group. The leaderboards and the winning Borough will be revealed at the end of the competition.
WHAT IS NIKE X LYG VIRTUAL CROSS COUNTRY?
Nike x LYG Cross Country is the first OPEN Virtual event of the LYG season.
Young people across London will participate and score virtual points for their Borough.
The aim of the event is to inspire and motivate young Londoners to be active, to train and represent their Borough.
This virtual event is not replacing the LYG Cross Country but is providing an opportunity for athletes to virtually compete and take pride in representing their Borough in a non-traditional way due to Covid-19.
WHERE AND WHEN WILL IT TAKE PLACE?
The virtual event will run from Saturday 21st November – Sunday 6th December 2020
Entries will open at 09:00 on the 21st November and close at 18:00 on the 6th December 2020.
Participants can complete the distance anywhere in London.
Although this is a Cross Country event, the distance can be covered on any safe terrain (grass, road, athletics track). Please ensure suitable shoes are worn for the running surface.
Borough eligibility is based on residence or school attended.
If a young person is eligible for more than one Borough, they must select which they are representing for this virtual event.
There is no maximum number per Borough who can take part in this event. The aim is to get as many young people taking part as possible.
HOW FAR SHOULD I RUN?
Race distances mirror traditional LYG Cross Country:
U17 Male – 4500m / U17 Female 3000m
U15 Male – 3000m / U15 Female – 2000m
U13 Male – 2000m / U13 Female – 2000m
U11 Male – 1500m / U11 Female – 1500m
SCORING INFORMATION
This event will be our first Virtual scoring OPEN event of the LYG Season.
There will be separate Male and Female competitions.
There are two elements which will contribute to the Borough overall score:
PARTICIPATION: Every participant who takes part in the event will score 1 point for their Borough. Participants will be asked to submit their entry and their time but do not need to provide proof of their time.
PERFORMANCE: Participants who upload proof of time over their set distance will be entered into a leader board for their age group. The fastest 50 times in each age group will be awarded additional points, which will be added onto the overall Borough score. For example – Fastest U13 girl = 50 points, 2nd fastest = 49 points.