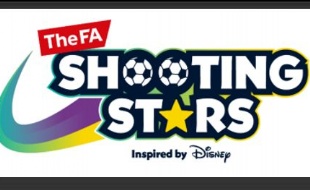 FA Shooting Stars Training
As a school who is part on an FA Girls' Football in Schools Partnership - supported by Barclays, we are excited to tell you about the Shooting Stars training that has been lined up for you next half term and into the summer term.
The FA Shooting Stars programme inspired by Disney uses franchises including Incredibles 2, Aladdin, Guardians of the Galaxy and now Frozen 2 and Toy Story to tell stories and encourage your girls to think about football as something for them (not just the boys)! They will be inspired to get active with their friends while learning to play football.
Please watch the great Shooting Stars video to see the programme come to life Shooting Stars Promo on Vimeo . You can also see the resources available in digital format on the Girls' Football in Schools website.
The updated course list with booking links is now available below:
https://girlsfootballinschools.org/assets/files/editor/TheFAShootingStarsVirtualTrainingEventBookingLinks_2.pdf
Please note the following:
This training is open to all school staff
You must complete all 3 modules; these need to be done in the correct numerical order
Bookings need to be made for each individual module; this has been done to allow more flexibility, but it is important that you book on all 3
The two user guides available (which are on the link above) explain how to book a place on the course and how to set up a YST event booking account. It is important for us to be able to track who has attended each course and from which school.
Once a member of your staff has completed the training, we will arrange for a member of the Network Team to come in and help set up the running of your Shooting Stars club/activities.
Please do not hesitate to contact us if you have any questions or issues with booking onto your chosen dates.