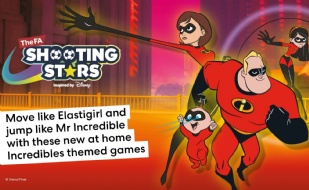 Shooting Stars at Home Resources
Kids can now unlock the magic of The FA Shooting Stars – inspired by Disney programme at home, with six new Incredibles themed games.
Perfect for primary aged girls and boys, they will need to unlock their inner superhero as they are challenged to move like Elastigirl, use their speed like Jack-Jack and jump like Mr Incredible!
Download and share the resources.
Follow the link below to find all of the resources.
https://www.girlsfootballinschools.org//participation-athome.php